NEW UPDATE ADDED BELOW
- info on shooter
- FBI explain why they were "Johnny on the Spot"
- FBI doesn't explain why they took jurisdiction in a State case. The original traffic stop was performed by Texas State Police.
Eyewitness Video of Shooter and Police pursuit and takedown.
Republic Broadcasting Network - Austin Texas
These are articles as they came in regarding the man known as the "Odessa Shooter". Original article will be in standard
black print.
My comments and observations will be in red print, as I have just a few.
The following is from CNN. I have been monitoring all news sites but considering I expect the most amount of propaganda to come from CNN, I am watching them a bit more closely.
ANYONE WITH ANY DETAILED INFO YOU WANT TO SHARE PLEASE CONTACT US :
-

As so far one of the most concerning details related to this case besides the AR-15 and ammo this essentially dirt poor man living in a box hobo managed to afford seems to be a call made to law enforcement by his neighbor when he had yelled at her with his rifle in hand and after killing random animals from the top of his shack.
The police FAILED to RESPOND or apparently even think to call the neighbor back. The neighbor said she thought it was due to the fact that GPS did not work out there. This should not be a factor
in law enforcement when it is in your jurisdiction. I know as
a firefighter there were areas that GPS either did not work or was incorrect. We had maps, county dispatch, and we would have the 911 call center make contact with the original caller if all else failed. And that was when it had nothing to do with a gun. So I reject the GPS explanation.
Someone needs to get to the bottom of that very quickly. You have to be pretty powerful to call off a 9/11 "man with a gun" report. I do not buy that they "just didn't bother" to show. Sometimes when the Feds are operating in an area or have a location under surveillance they put the address into local county dispatch to be called before any other units roll. I'm not saying that this is what happened here, but just considering all possibilities. Can you imagine someone making this call, the police just blowing it off and something happening? It just makes no sense.
You don't defeat criminals by disarming those who do not commit crimes.
8:07 p.m. ET, September 1, 2019
FBI agents are searching a shack connected to the shooter
Members of the FBI Evidence Response Team Unit are walking in and out of a small shack here in West Odessa, carrying out bags of what appear to be evidence collected from a scene connected to the shooter.
I don't know if it is standard in this specific area for the Federal Government to get involved immediately in what is a local, at most a state jurisdictional case. How is this FBI jurisdiction, and why are they gaining entry to this man's property? Where was the local Sheriff or State Police?
The property — a small tan structure made of metal — has had its door busted through, and authorities have taped off the area around it.
A law enforcement official told CNN earlier that the FBI was executing a search warrant at a property here believed to be connected to the shooter.
The property is off a dirt road in a rural community about 15 miles west of the movie theater where the gunman was taken down after the Saturday shooting spree.
7:38 p.m. ET, September 1, 2019
Police still don't have a motive for the shootings, source says
A law enforcement official tells CNN authorities have not yet been unable to identify a motive in the Midland-Odessa shootings.
The source noted their investigation continues to try to determine what triggered the shootings.
What we do know is that this began with a motor vehicle stop allegedly. I have been searching for warrants and records - I will update when I find something.
The official indicated authorities expect to execute additional search warrants associated with the shooter.
7:22 p.m. ET, September 1, 2019
Odessa shooter's neighbor says he threatened her with a rifle
A neighbor of the west Texas shooter says the 36-year-old came up to her house last month with a big rifle and yelled at her for leaving trash in a nearby dumpster.
Harassing someone while brandishing a rifle - a fine line when it comes to legality if he never threatened her, or pointed it at her, this is of course an issue, but honestly for Texas not completely crazy.
Veronica Alonzo also described how her neighbor would frequently shoot out of a structure on top of his house at night into his yard, often going to retrieve dead animals afterwards.
The indiscriminate killing of animals that are not pests is a sign of a demented mind. Most serial killers begin early with torturing and killing or just killing animals for no apparent reason to anyone else.
Investigators at the gunman's home Sunday were seen placing dozens of small red flags in locations outside his property, around locations that Alonzo indicated he would shoot at.
No doubt collecting spent casings if ammunition.
Alonzo said she called police after the incident last month, but that they had never responded because the location of the property does not show up on GPS and is difficult to find.
This explanation for the police NEVER RESPONDING to a call regarding a man with a gun acting oddly, is beyond unacceptable. A property should not have to "show up on GPS for law enforcement to be able to locate it in their jurisdiction. They are not pizza delivery men. I find this excuse unacceptable. We will be inquiring as to why there was no attempt to make contact after this report and call was made. This woman living out there near this guy is a prime example as to why people should not be disarmed. Regardless off shootings that occur, good people do not deserve to be made helpless by politicians because others could care less about their self protection .
Alonzo said that the shooter's home had no running water or electricity. She said she saw him sitting in his gold Toyota Camry with the heat on when the weather was cold.
If he had no money, no electricity, and no water, just out of curiosity I wonder where he got the money to continue purchasing ammunition or where he got the AR-15 he was reported to have allegedly used? Not impossible, but in another report we are told that he recently failed a background check to purchase a gun. We are still looking into that as well. As I stated above I find the jurisdiction of the FBI to be very interesting in this case.
UPDATE - THIS JUST IN -
RTR TRUTH MEDIA REPORT:
Ator, 36, was arrested in 2001 for criminal trespassing and evading arrest, both misdemeanors, according to public records. Adjudication was deferred, though the details of the case are not immediately available.
Ator's record also includes a 2018 traffic citation for a federal motor carrier safety violation, according to Ector County court records.
A LinkedIn account under Ator's name said he was a truck driver. A Facebook page under his name contained only one publicly visible photo of the shooter posted in 2012, and the account has since been removed.
The FBI executed a search warrant Sunday at a rural property in West Odessa believed to be connected to the alleged shooter, according to a law enforcement official.
FBI Special Agent in Charge Christopher Combs said at an earlier news conference Sunday that investigators were conducting "searches at this exact moment in time to make sure that there is nobody else (is) even possibly connected to this."
Combs affirmed the assessment by local police that authorities believe the shooter acted alone Saturday.
FBI says that shooting has no connection to terrorism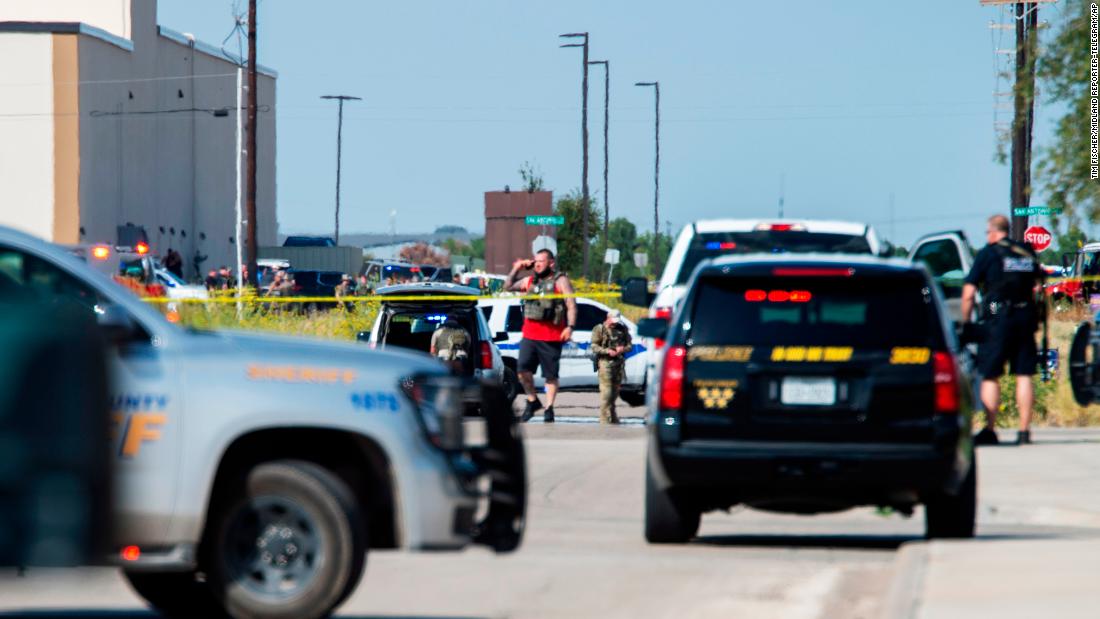 The FBI said they do not believe there is any connection to domestic or international terrorism in the Odessa and Midland shootings from Saturday.
"At this point I can tell you we do not believe — we do not believe, there's any connection to any domestic or international terrorism," FBI Special Agent in Charge Christopher Combs said.
Police say AR-15 "type" rifle was used.
This will no doubt have people freaking out. "BAN THE AR-15!!! What most of these gun control folks have no clue about, is that they have no clue. It is only a style. Like wearing a dress. If I showed them a semi auto with a wood stock, no handle grip, no barrel shroud, etc, they would likely think much differently about it. I try and explain it to liberal women like a dress. Imagine there was just this one dressmaker, and everyone just had to have one of her dresses if it was the only dress you had. All it is is fashion, and they think that because it is the most popular style, that "it" should be banned. It's just stupid. Unless of course you are taking to those who want to ban all weapons. But those folks if they tried would be committing treason. We should start prosecuting for that. If they can advocate the use of force and the threat of violence to demand confiscation, I have no sympathy.


FBI explains why they were "Johnny on the Spot"
The suspect in the Odessa and Midland, Texas, shooting used an AR-type weapon according to Odessa Police Chief Michael Gerke, so it will be no shock to anyone that reporters were trying to make that the subject during the governors press conference at which the governor says "I have seen too many of these". And while I see this unfolding I can not help but think that a lot of this just seems in-natural to me. All at the same time that Red Flag Laws and the TAPS Pre-Crime Act are being pushed through. "Preventative law enforcement is Bolshevism not American. Some say that the times have changed and so we may have to change with them. Um - no. Worst case scenario, hold public classes and start having regular citizens attend some training as volunteer militia peace officers. No law enforcement duties. The only responsibility assumed is that of preservation of life. That sounds to me like a far better idea than disarming people or implementing pre-crime programs. Think about it. If every able bodied individual, who has a clean record and never harmed anyone goes and gets trained in the shoot-don't shoot program, and they are armed everywhere including these stupid Gun Free Zones, we would have a far safer world.
So now to the Johnny on the spot FBI -
FBI Special Agent in Charge Christopher Combs said his agency responds to Texas frequently. The FBI is "here now almost every other week supporting our local and state partners on active shooters. We're almost every two weeks an active shooter in this country," he said.
Combs did say they are serving a federal search warrant in the area, but added there are numerous incident scenes across the area.
- So it appears that we have our answer as to why the FBI was there... although this sounds rather strange that this shooter began with a motor vehicle stop by the Texas State Police, and the MRAPS and FBI were not only ready to go, but that the Texas State Police relinquished jurisdiction in a case of a guy who tried to kill their own. Still seeming odd to me.

RTR TRUTH MEDIA —— http://RTRTruthMedia.com http://RTRTruthMedia.blogspot.com
Resurrect the Republic Radio Show
Republic Broadcasting Network - Austin TEXAS - Sunday's at 10AM tune in to the show. You can go to http://RepublicBroadcasting.org for tuning in instructions and to click the LISTEN LIVE function, as well as many other methods. To call in - 1(800)313-9443
We welcome all polite callers.