A China-born MP for New Zealand's ruling party has denied being a spy after it emerged that he had spent years studying and teaching in universities with links to Chinese intelligence services.
"I am not a spy," Yang Jian, the National party's first MP born in mainland
China
, told reporters on Wednesday after a joint investigation by the Financial Times and New Zealand's Newsroom revealed what they described as his hidden past.
WATCH THIS VIDEO ON THIS COMMUNIST SPY
According to the New Zealand Herald
the 55-year-old MP rejected the accusations as a racist "smear campaign" targeting him "just because I am Chinese".
Yang emigrated to New Zealand from China in 1999 to take a job teaching international relations at Auckland University. Twelve years later he became an MP, quoting China's former Communist party leader, Deng Xiaoping, in
his debut speech
to parliament.
"I don't care if it is a white cat or a black cat," the National party legislator said. "It's a good cat as long as it catches mice."
On Wednesday Yang was battling claims not that he was a black or a white cat, but a Trojan horse, after
claims
New Zealand's security services had been investigating him for ties to China's intelligence services.
Yang's statement:
"I refute any allegations that question my loyalty to New Zealand … Although I was not born here I am proud to call myself a New Zealander, obey our laws and contribute to this country," he told a press conference. "I challenge those who are propagating these defamatory statements to front up and prove it."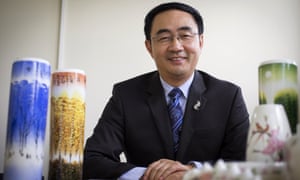 The reported interest in Yang by New Zealand's Security Intelligence Service (NZSIS) stems from time he spent at two academic institutions in his native China between 1978 and 1994.
One is the Air Force Engineering Academy of China's People's Liberation Army (PLA), where he studied English language as an undergraduate and subsequently taught.
The other is the Luoyang Foreign Language Institute in the central province of Henan.
According to the Financial Times
, that school is attached to the third department of the PLA's general staff headquarters, which it described as China's answer to the US National Security Agency (NSA) or the UK's Government Communications Headquarters (GCHQ). The newspaper said the school specialised in training both "openly acknowledged military intelligence officers and 'secret line' deep cover agents".
"Everyone I know who's attended the Luoyang Foreign Language Institute has been in Chinese military intelligence or at least linked to that system," Peter Mattis, a Jamestown Foundation expert on China's military and intelligence, was quoted as saying.
On Wednesday, Yang admitted he had spent time at both institutions but insisted there had been nothing untoward about his work.
He released a CV which showed he had received a BA in English from the Air Force Engineering school in 1982 and an MA in American studies from the Luoyang school in 1990.
The CV also showed that from 1982 to 1987 he worked as a "teaching assistant (associate lecturer)" at the former and a lecturer at the latter from 1990 until 1993 when he moved to Australia to study at the Australian National University.
According to stuff.co.nz, New Zealand's biggest news website, Yang admitted that as a lecturer he had taught students how to intercept and decipher communications but not to engage in "the physical act of spying".
Read more:
RTR TRUTH MEDIA
Personally, I think that governments world wide have lost their collectivist minds, and have been for a very long time controlled by hidden powers that know full well what they are doing and keep it hidden from the public. This is why it appears to many to be so insane and also explains why this man has not been tried for treason jailed or deported back to Communist China. And if you think China is alone in this, no no no......keep tuned in to the Resurrect the Republic Radio Show..... you are about to have a serious red pill bonanza coming.
--------------------------------------
Newsroom Investigation: National MP trained by Chinese spies
Watch the video story in the player above
A National Party MP who studied at an elite Chinese spy school before moving to New Zealand has attracted the interest of our Security Intelligence Service.
The list MP Jian Yang did not mention in his work or political CVs a decade he spent in the People's Liberation Army-Air Force Engineering College or the Luoyang language institute run by China's equivalent of the United States National Security Agency.
That agency, the Third Department, conducts spying activities for China.
Newsroom has been told that to have taught at the Air Force Engineering College, Yang would have almost certainly been an officer in Chinese military intelligence and a member of the Communist Party, as other students and staff have been.
Yang studied and then taught there before moving to Australia where he attended the Australian National University in Canberra. He migrated to this country to teach international relations in the politics department at the University of Auckland.
He was hand-picked by National Party president Peter Goodfellow to become an MP on its list in 2011, wooed directly by the former Prime Minister John Key and has been a key fundraiser for National among the Chinese community in Auckland.
As an MP he variously served on Parliament's Foreign Affairs, Defence and Trade (from 2014 until last year), Commerce, Transport and Industrial Relations and Health and Science select committees and is prominent in New Zealand's interactions with the Chinese community and diplomatic and consular missions in Wellington and Auckland. He remains a Parliamentary Private Secretary for ethnic affairs.
Yang confirms
Newsroom has worked with the
Financial Times
in Hong Kong to investigate Yang's background.
We can reveal Yang confirmed in a recorded interview in Chinese with the Financial Times that he attended both military institutions.
In his comments to the FT researcher, Yang twice urged her to concentrate on the New Zealand election. "You don't need to write too much about myself," he said, adding later: "As for me myself, actually I don't feel it's necessary to include so many detailed things."
Interviewed today, by Newsroom, Yang refused to comment, saying repeatedly on camera: "Talk to my boss" and "I have nothing to hide". He then drove away.
Yang later released a statement saying he refuted "any allegations that question my loyalty to New Zealand".
The statement said he had been "nothing but upfront and transparent" about his education and employment.
Yang challenged those who were "propagating these defamatory statements" to front up and prove them.
"This is a smear campaign by nameless people who are out to damage me and the National Party 10 days from an election, just because I am Chinese."
An expert in Chinese intelligence Peter Mattis told Newsroom from the US that someone who attended and then taught at the Air Force Engineering College and attended the language institute would almost certainly have been an officer in China's PLA and member of the Communist Party.
SIS interest
Newsroom understands New Zealand's Security Intelligence Service has scrutinised him at times over three years, including interviewing one person about him last year.
The SIS said today it would not comment on operational matters, especially investigations involving individuals.
A hearing of Parliament's Privileges Committee into intelligence surveillance protocols for MPs occurred in late 2013. If an intelligence agency has cause to monitor an MP, the SIS director or Inspector-General of Intelligence is to brief the Speaker of the House. The Privileges Committee, chaired at the time by Attorney-General Chris Finlayson, polices contempts, which can include anything that could impede or restrict the rights of MPs to conduct their business unimpeded.
A Memorandum of Understanding between the SIS and Parliament's Speaker from 2010 says: "The only circumstances in which collection may be directed against a sitting MP is where a particular MP is suspected of undertaking activities relevant to security."
Read more :
https://www.newsroom.co.nz/@summer-newsroom/2017/09/12/46657/newsroom-investigation-national-mp-trained-by-chinese-spies
Tom Lacovara-Stewart
RTR Truth Media - Resurrect the Republic
Republic Broadcasting Network
New Social Media Account - Freedom Platform
RTR Truth Media - Dtube
RTR Truth Media - Steemit
RTR Truth Media Reloaded YouTube
RTR Truth Media Bitchute
Please go to our show's facebook page like and follow:
Fair Use Act Disclaimer. Copyright Disclaimer under section 107 of the Copyright Act 1976, allowance is made for "fair use" for purposes such as criticism, comment, news reporting, teaching, scholarship, education and research. Fair use is a use permitted by copyright statute that might otherwise be infringing.
In the United States, freedom of the press is protected under the First Amendment in the Bill of Rights. Under the First Amendment, the government is not allowed to censor the press. Nor can any corporation, platform nor communications medium that caters to people on the claim of impartiality censor any such content. Especially those who have build their platforms on mediums that have taken part in government (taxpayer paid) subsidies.